How to Pick a CSA
(Community-supported Agriculture)
*this post contains affiliate links.
It's getting to be that time again. I'm daydreaming about fresh vegetables from my garden. And farmers are using this quiet time to plan out their growing seasons.
It takes a tremendous amount of work for farmer's to review their notes from past seasons, estimate yields, weigh profit and loss estimates, review companion and rotation planting schedules, purchase seeds, and start planting. All before winter is even over!
It's also a time for you, lover of local farms, fresh foods, and seasonal living, to consider joining a CSA or Community Supported Agriculture.
A CSA is essentially a subscription service. You pay an upfront cost and when the growing season is underway, you receive a box of goodies. It may seem a bit strange to buy a summer's worth of vegetables in the middle of winter but the CSA format is one of the best ways to support a local farm.
In a way, it is a little bit of a gamble as the seasons can be unpredictable. Hail storms, hurricanes, or locusts may happen. It does. That's the life of farming. When this happens, I've seen farmers help their subscribers by providing extra of other items, getting the item from other farms, or extending the season. They want you to have a good experience so they will usually do what they can to meet their promise.
Benefits of a CSA
Purchasing a CSA share will help the farmer:
Estimate the crops they need to grow
Provide a financial buffer no matter what the season brings
Purchase seeds or needed equipment
Hire appropriate number of employees
In return, you get:
Regular seasonal produce
Knowing your farmer
More nutritious food with reduced transit time
Any add-on goodies they may produce
Built in community with other shareholders (potentially)
Generally, there are summer or winter CSAs that sometimes extend into fall or spring.
How to Choose the CSA
1) Cost
Consider if the subscription is in your budget. The costs will vary based on the farm, the market rate, and the products. There are a couple of ways to reduce cost. Sometimes you can purchase a half-share instead of a full-share. Some farmers allow you to do work at the farm in exchange for a reduced rate. And there may be an option to purchase add-on CSA items like flowers, maple syrup, or apples. Even if the CSA isn't in your budget, you can still get fresh vegetables as needed at the farmer's market, at an on-the-farm stand, or by growing your own.
2) Pick-up locations
This is important. Some farmers, especially in denser areas, will do delivery to your house. Some offer specific times for pick-up, possibly at the farm or at the weekend farmer's market. Don't be afraid to call the farm if the time isn't listed on the website. You never know if you don't ask. If you know that you have no way to get to the pick-up location on Tuesdays from 12-7pm and that's the only time they offer for pick-up, don't sign up.
3) Growing practices
There are a lot of growing practices out there. Choose what is important to you whether it's organic or 'traditional'. Some farms struggle to meet the organic classification but do use holistic practices like integrated pest management. I know one farmer that uses armies of plant-friendly lady bugs to eat crop-decimating aphids.
4) Main crops
The most common CSA is for summer vegetables. Think cucumbers, tomatoes, lettuce, green beans, squash, etc. Other CSA possibilities are flowers, herbs, and meat. Don't be too afraid about getting overwhelmed with a particular vegetable. Instead, try making it different ways, putting some by (canning or freezing), or sharing with your neighbors. Some farms share recipes with each CSA box as a way to try a different recipe. Essentially, if you are a vegetarian, don't sign up for a meat CSA.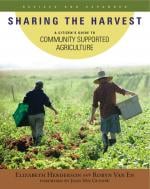 Sharing the Harvest, Revised and Expanded
from: Chelsea Green Publishing
Have you purchased a CSA before? Did you have a good experience? Anything you wished you knew ahead of time? Let me know in the comments!